How To Use URL Redirection Feature in Premium and Premium Plus DNS Hosting
To utilize the URL Redirection feature, you will need to have a customer account on IPServerOne Customer Portal and use Premium or Premium Plus DNS Hosting service hosted by IPServerOne. 
1- Let's start off by logging in to IPSERVERONE portal (https://portal.ipserverone.com/).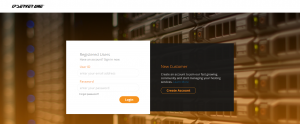 2- Once logged in, continue to click on the Cloud Platform, dropdown to DNS Hosting. Kindly proceed to click on "Manage" for the domain name selected.

3- After clicking on Manage, you'll land on the DNS Record page. Scroll to the bottom to find Additional Features (Premium/Premium Plus). To start off your first URL redirection, click on Add URL Redirection.

4- Here, you will be able to insert a name in Source URL to pair with your main URL domain.
Eg. facebook.mycompanyname99.com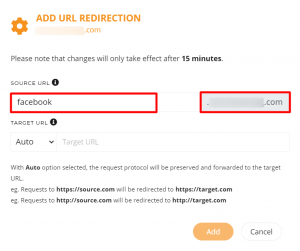 5- Target URL is where you will want your Source URL to direct it to.
For example, we can fill in target URL as www.facebook.com/mycompanyname99
Beneath Target URL, please do not ever change the setting. Let it remain as Auto, as the URL will be auto-selected to its own protocol (http/https) accordingly. Once done, click Add.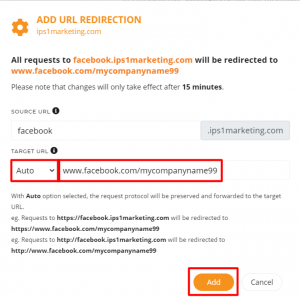 6- After pairing both URLs, your Source URL can now be used as a link to the Target URL.
Eg. From your browser, type in facebook.mycompanyname99.com in your search bar land you will directed to www.facebook.com/mycompanyname99
*Please note that it will take 15 minutes for the setting to take place. Test your Source URL after the stated period.