How To Manage DNS Records Via Portal 
This article will guide you on how to add, delete and edit DNS records via IPServerOne Customer Portal. However, please make sure all domain names in DNS plans are pointed to following nameservers:
NS1: ns-1510.ipxcdn.com
NS2: ns-2379.ipxcdn.com
1. Login to IPServerOne customer portal at https://portal.ipserverone.com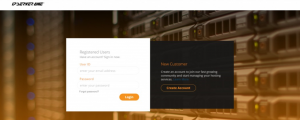 2. Once logged in, click on "NovaCloud" at the left panel menu and dropdown to click on "DNS".

The list of domain names DNS plans will appear. Kindly proceed to click on "Manage" for the domain name selected.

NOTE: IPSERVERONE offers 4 types DNS hosting:
Free DNS hosting – Only support 2 DNS records per domain (excluding NS and SOA)
Standard DNS hosting – Support 30 DNS records per domain (excluding NS and SOA)
Premium DNS Hosting –

Support 50 DNS records per domain (excluding NS and SOA)

Premium Plus DNS Hosting –

Support 300 DNS records per domain (excluding NS and SOA)
3. From there, the page will redirect you to manage DNS. Please click on "Add Records" if you wish to add DNS records for the domain.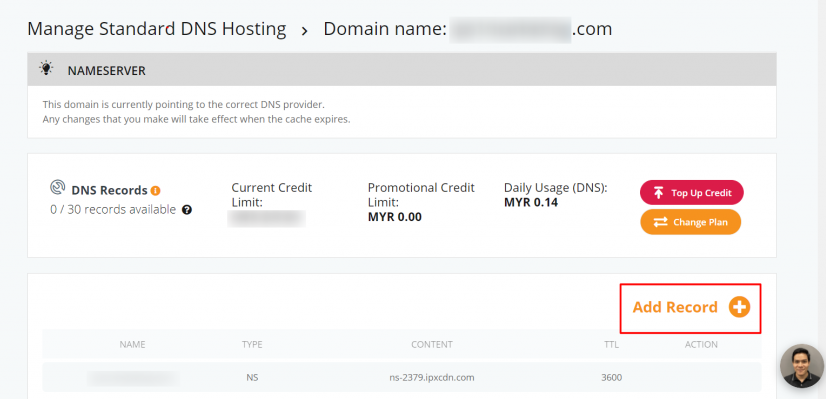 4. A pop-up page to add DNS records will appear. You may add more DNS records for the domain. 
For more information on the type of DNS record to add, please refer to the Type of DNS Record section and table by the end of the article.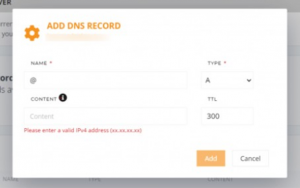 5. If you wish to remove any DNS records, click on the (x) button under Action. You may also edit records by clicking the pen symbol. 

Type of DNS Record 
Referring to Step 4, there are few records that you will be able to add :
1. A record – The 'A' stands for 'address'. This is the most fundamental type of DNS record, as it indicates the IP address of a given domain.
2. AAAA record – Similar to A record, difference lies in that A records is used to resolve a hostname which corresponds to an IPv4 address, while AAAA records are used to resolve a domain name which corresponds to an IPv6 address.
3. CNAME record – a CNAME record can map the web address www.example.com to the actual web site for the domain example.com.
–         Example 1: CName from subdomain to parent domain
–         Example 2: CNAME from subdomain to subdomain
Name type value
———————————————
Old.example.com. CNAME new.example NAME TYPE VALUE
   .com.new.example.com A 192.162.100.101
4. MX record – In simple DNS terms, an MX record is used to tell the world which mail servers accept incoming mail for your domain and where emails (sent to your domain) should be routed to. If your MX records are not pointed to the correct location, you will not receive any email. You can add multiple MX records.
5. NS record – Also known as Nameserver record, by default your NS has been set in our portal as below:
             NS1: ns-1510.ipxcdn.com
             NS2: ns-2379.ipxcdn.com
Due to this setting, you are able to manage your DNS record via portal. It is recommended to not amend anything for the NS record.
6. TXT record – TXT record is a type of Domain Name System (DNS) record that contains text information for sources outside of your domain. You can use TXT records for various purposes:
      TXT records to verify domain ownership

      Use TXT records to ensure email security such as SPF records, DKIM records, DMARC records
7. ALIAS record – Like CNAME, it also maps a hostname to another hostname. However, the ALIAS Record makes it possible to have other DNS records on the same hostname, while CNAME does not. This makes it possible to apply ALIAS at the root domain (DNS zone apex), which is not allowed for CNAME. 
Please refer to this guide when adding DNS records :

Name
Type
Content
TTL
Enter: @ or domain name,

eg: domain.com or subdomain,

A
(Enter IP address)

eg: 123.456.7.89

300
Enter: @ or domain name,

eg: domain.com or subdomain,

AAAA
(IPV6 address)  2001:0db8:85a3:0000:0000:8a2e:0370:7334
3600
Enter: @ or domain name,

eg: domain.com

CNAME
www.domain.com
3600
Enter: @ or domain name,

eg: domain.com

MX
mail.domain.com
3600
Enter: @ or domain name,

eg: domain.com

NS
ns1.nameserver.com
3600
Enter: @ or domain name,

eg: domain.com

TXT
v=spf1 a mx ip4:1.2.3.4 ~all
3600
Enter: @
ALIAS
domain2.com
3600
*Any changes on DNS, please allow 0-24 hour for DNS fully propagate. You can always view the DNS status via https://www.whatsmydns.net/*