How To Apply DNS Hosting to Existing Domain
1- IPServerOne DNS Hosting is applicable to any active domains, be it from IPServerone or existing domain (bought elsewhere). 
To use IPServerOne's DNS Hosting service, you will need to have an account in IPServerOne Customer portal. If you do have already, let's start off by logging in.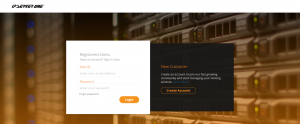 2- Once logged in, move your mouse to Cloud Platform and dropdown to click on DNS Hosting.
You may attach your domain with our DNS Hosting service by clicking on Add DNS Hosting on your right. 

3- A pop up will show four selections DNS Hosting Plan. You will need to pick one of the options available.
Which is the best plan for my usage? Refer to the FAQ here
Once you are done selecting, proceed to click Next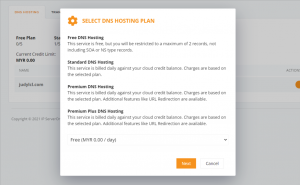 4- You may now insert your existing domain and click on Add.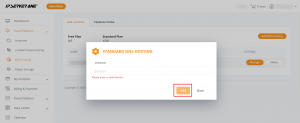 5- Your domain is successfully attached with the DNS Hosting plan.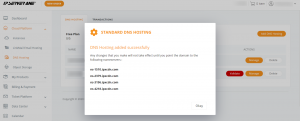 For the domain and DNS Hosting to sync, please ensure your nameserver is pointing to our nameservers : ns-1510.ipxcdn.com and ns-2379.ipxcdn.com.
You may refer to below link to change the pointing of name server:
MYNIC domain: https://www.ipserverone.info/knowledge-base/how-to-modify-dns-for-mynic-domain/
Webnic domain: https://www.ipserverone.info/knowledge-base/how-do-i-change-my-domains-dns-com-net-biz-info-org/