Note: Below we will be connecting to VPN Server using client running on Linux systems. If you are running your client using Windows Operating System, refer to this guide instead. By using sites such as https://www.whatismyip.com/ on your client pc, you can check that the VPN connection is successful if the IP shown belongs to the VPN Server.
We will be using a protocol exclusive to SoftEther named SSL-VPN to connect client to server due to it being secure, fast and able to penetrate most firewalls.
Step 1: First of all, download SoftEther's own VPN Client software onto client side PC using Lynx terminal-based browser.
lynx http://www.softether-download.com/files/softether/

Follow the same steps as when downloading VPN Server, but choose "SoftEther_VPN_Client" instead when reaching this screen.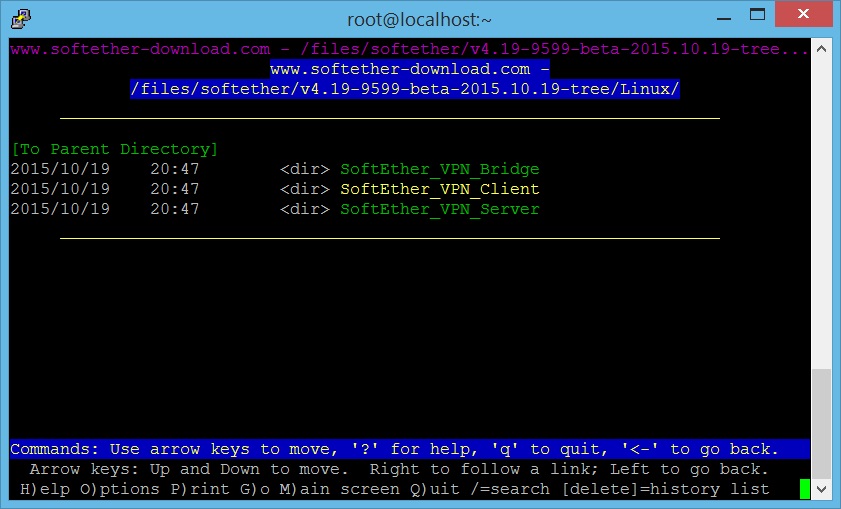 Step 2: After this choice, untar the downloaded file via the command:
tar -xzvf softether-vpnclient-v4.19-9599-beta-2015.10.19-linux-x64-64bit.tar.gz
Step 3: Same as the server, we need to compile and make vpnclient into an executable files vpnclinet & vpncmd by running:
cd vpnclient
make
Press "1" and Enter 3 times regrading the Licence Agreement. Then, move the files to another directory (eg: /usr/local/src) and change their permission.
cd ..
mv vpnclient /usr/local/src
cd /usr/local/src/vpnclient/
chmod 0710 *

Step 3: Start the VPN Client service with the following command:
./vpnclient start
Step 4: Like with our server, we will perform configuration of the client using vpncmd tool. In the vpnclient directory, type the command:
./vpncmd
Use VPN Tools (Press "3") and type "check" to check if your client side can run SoftEther VPN. We want an "All checks passed" just like during checking of VPN Server.
After that, exit the tools and open vpncmd again. This time press "2" and Enter to go into "Management of VPN Client" mode. Press Enter again without typing anything to connect to localhost, allowing you to manage the VPN client that you have started just now.
Step 5: SoftEther establishes connection to the VPN Server using Virtual Adapters, which can be created using the command:
NicCreate myadapter
The command creates a Virtual Adapter named "myadapter". Then we create a VPN connection using the command below:
AccountCreate myconnection
It will prompt you to enter your SoftEther VPN Server's IP and Port Number. We are using  HTTPS protocal plus port 443 for establishing VPN tunnel, so type in: <vpn-server-ip>:443
Then, enter the name of the Virtual Hub you want to connect to on your VPN Server: VPN
Now, enter the username that you have created. Finally enter the name of the Virtual Adapter that you have just created: myadapter

After all that, the VPN connection is successfully created.
Step 6: Before we begin connecting to our VPN Server, we need to add a password for our VPN connection, using the command:
AccountPasswordSet myconnection
Enter your password, press Enter, then enter the password again for confirmation.
Next, type "standard" when prompted to select password authentication method.
Step 7: Now to start our connection to the VPN Server, using the command line:
AccountConnect myconnection

To view connection status, use the command:
AccountStatusGet myconnection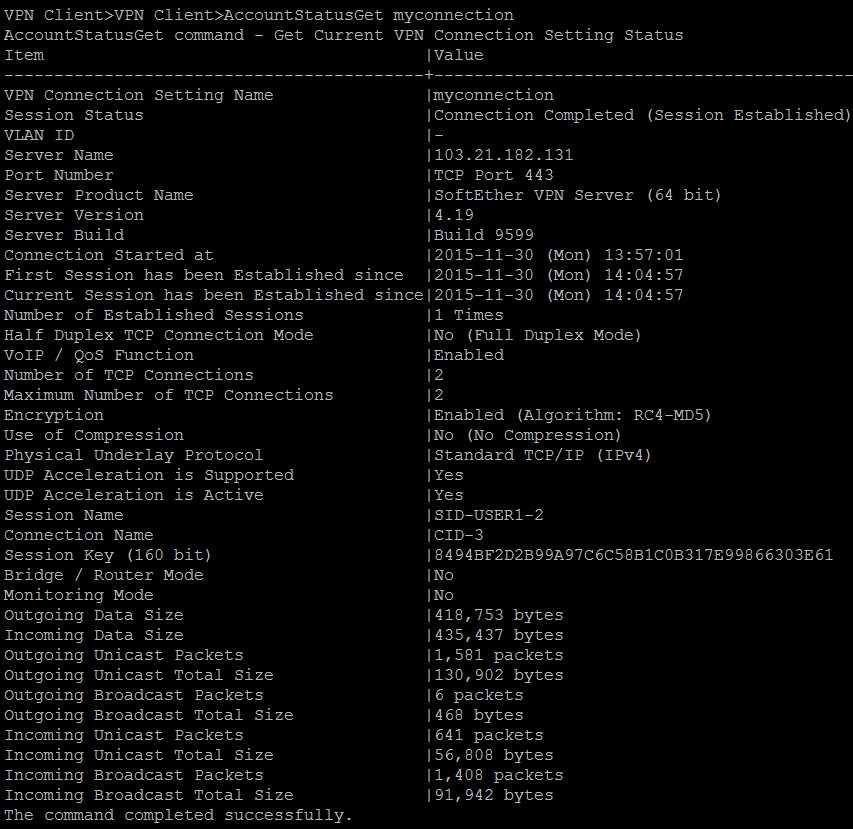 We have successfully connected to VPN Server using VPN Client.
Note: Adding Additional Security using SSL Certificate
The SSL cert that we have created in during VPN Server configuration can be used to increase the security of our connections to the server if you wish to do so. First we have to download the certificate file to the client's pc using the method explained in Step 16, then by using SoftEther, then move the cert file to the same folder as vpnclient. Finally, we can add the SSL cert using the command:
CertAdd
Type in the cert filename when prompted and press Enter.

Then enable certificate verification for your connection using the following command:
AccountServerCertEnable
Type in the name of your VPN connection, which is "myconnection" in our case.