Purchase Domain with IPServerOne Standard DNS Hosting
A domain name can simply be purchased from IPServerOne. We should note that nameservers are needed for a domain to work. From here, we are laying five available options to choose from :
This is a guide for those who do not own any nameservers and would like to opt for IPServerOne Standard DNS Hosting for nameservers.
1. To purchase a new domain name, start off by logging in to IPSERVERONE portal.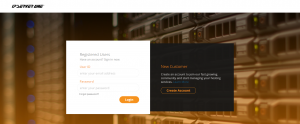 2. After successfully logged in, click on New Order. 

3. In the following page, click on Domain Name. 

4. Before registering a domain name, do check its availability in the search field. 

5. Once you have clicked the Search button, available names and extensions will appear. From here, simply click on the '+' button of your choosing. 
An order summary tab will appear on the right after clicking the '+' button. 

6. To create a domain name, it is essential to have a name server to operate the domain. If you do not own any nameservers in hand, you can opt for IPServerOne's Standard DNS Hosting.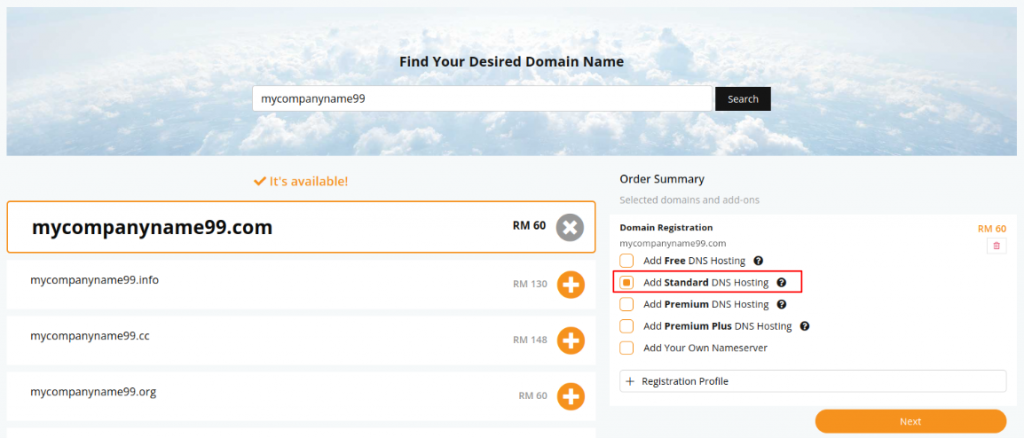 ** by opting for Standard DNS Hosting, the charges will be deducted from the cloud credit available in your account.
7. Continue your steps by clicking on Registration Profile. 
You can set to default or select any contacts created or you may create different contact profiles by clicking on Add Profile.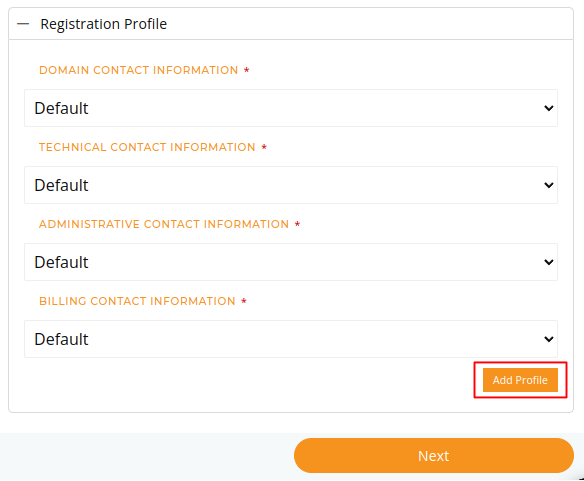 ** If you are a first timer, fill in the contact information with your details to set a default profile for your new domain registration.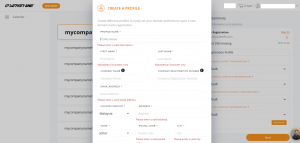 ** Please make sure your account profile is complete before pursuing the domain. An error will appear if your profile is incomplete, so do update the missing details by clicking on the Edit Profile.

**You will have to redo the steps to purchase domain name again if customer profile is incomplete.
8. After clicking Next from the Order Summary, a pop up will appear to confirm the cloud credit charge for Standard DNS Hosting at RM0.14/daily.
make sure you have sufficient cloud credit in your account, at least a minimum cloud credit of RM50.00 is required to activate the Standard DNS Hosting Plan. 
Credit Top-Up will be added to the cart, alongside purchase of domain. Click Next.
If you have sufficient cloud credit balance to support Standard DNS Hosting, continue to click Skip.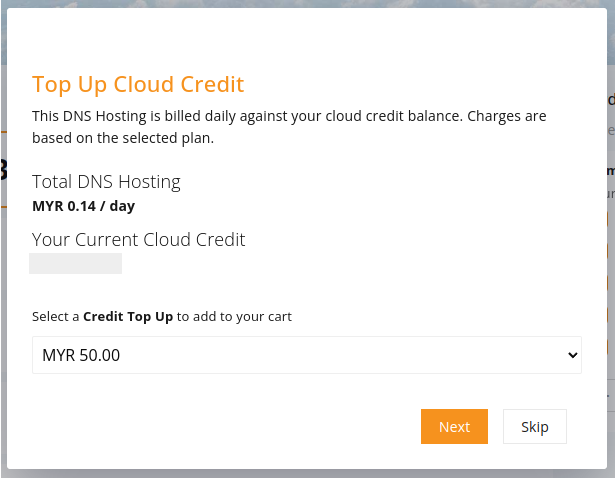 9. you will be directed to Domain Configuration section. Kindly review these details and confirm your domain configuration by clicking Confirm.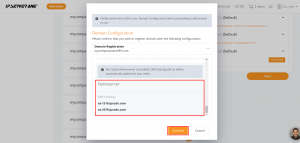 10. Domain is successfully added to cart, you may now proceed to checkout to secure the availability of your domain name. 

11. Your cart should show as follows. Proceed to click Checkout.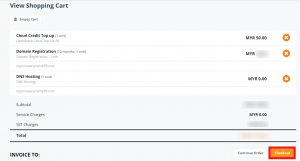 Additional Links for Reference