How To Initiate Registrant Transfer
Registrant Transfer can be done if you'd like to switch Invoicing Party and continue using the same domain.
1-  To initiate registrant transfer, you will need to log in to Domain Management System – MYNIC https://domainmanager.mynic.my/Mynic-ViewController-context-root/faces/PB/UserLogin.jsp
Once successfully login into MYNIC DMS, click on Domain Name and down to Transfer Domain.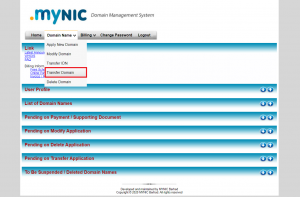 2-  From here, please enter your Registration No. and Domain Name. For the domain, make sure you only enter domain name without its extension.
For example, your domain name is "mydomain.com.my".  Only type in "mydomain" in the Domain Name box and for its extension, you can click on the domain extension listed. Click Search to continue.

3-  From the Search Results, you may select your domain name and click Transfer.
4-  Fill up all the contact changes for Registrant, Admin, Billing Technical and insert respective nameservers. Reaching Invoicing Party, simply scroll through the reseller box until you find IP ServerOne Solutions Sdn. Bhd.
Click Confirm when all information is completed.
Once your transfer request is submitted, the current admin, new admin and the invoicing party will receive an email notification from MYNIC. Process will take a minimum of 14 days for deletion of records from the current registrar in Whois.
Process will not affect domain technically and services remain working as usual.
**During the 14 days span, request can still be cancelled by admin by sending an email to MYNIC at customercare@mynic.my
Follow Up Steps :
1-  After 14 days of transfer request, new admin and Invoicing Party will receive another notification email, confirming deletion of domain name from previous registrant. Onwards, it is compulsory for new registrant to create a 1-year renewal fee to Invoicing Party in order to re-register the domain.
2-  Payment for registrant transfer must be done in the next 15 days. Domain name will be permanently deleted if no payment is received during the period.
3-  Once payment is done, domain name will be re-registered under new registrant and service period will start again on the new registration date.