Difference Between a Paid and Free SSL
What is an SSL
An SSL (Secure Socket Layer) and serves as a form of security for that encrypts traffic between a web browser and a server. Data that is transferred between a computer and a web server is in plain text if the website was not secured using an SSL. This means that any information being transmitted can be read easily if it is intercepted by a third party. An SSL helps to protect information by creating an encrypted connection between a computer and a web server.
To check if your website is encrypted via SSL, just visit the website's URL with any browser. If your website address starts with HTTPS and has a green lock next to it, this indicates that the website already has an SSL implemented.

---
The difference between a free SSL and a paid SSL
Level of Validation
Free SSL certificates are useful for domain validation (DV), which helps to validate the identity of the owner of the website. However, it doesn't offer any more protection other than that.
Opting for a paid SSL certificate provides you with the option of organisation validation (OV) and extended validation (EV) which both have more extensive requirements. Certificate authorities that issue OV and EV SSL certs will vet businesses applying for the certificates, often times requiring them to provide certain business documents. Visitors of the website can view additional information about the company when the Secure Site Seal is clicked on, which can help enhance the trust of a potential customer in the site.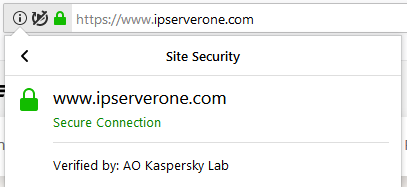 Validity Period
The period that a paid SSL certificate can be issued for is typically between one to two years. Free SSL certificates on the other hand have a lifespan of between 30 to 90 days.
Support
The implementation of an SSL can be challenging, and troubleshooting a problem with an SSL can be daunting if you've never done it before. Thankfully, customers of paid SSL certificates have access to technical support at any time, which comes from either the certificate authority or the reseller of the SSL. Free SSLs usually do not receive any form of support from the certificate authorities that provide it.
Warranty
Free SSL certificates are not covered by warranties for any issues whatsoever. This is not the case with paid SSL certificates, which comes with warranties covering damages with amounts ranging up to 1.75 million.
---
Which SSL should I use?

This depends heavily on the type of website you are running. If it's a small website or blog, a free SSL certificate can provide the level of security that you require. If you intend on running an e-commerce business or if your website will be ferrying critical information such as personal information, credit card/banking information, a paid SSL certificate will do wonders in instilling trust and confidence in your customers.
---
If you would like to install your own free SSL, please refer to the guide below:
How To Install Let's Encrypt SSL Certificate in cPanel
For more information about paid SSL certificates, please do not hesitate to contact our team via email at sales@ipserverone.com