If you have purchased your domain name and your hosting from two different hosting providers, you need to perform a simple operation to essentially link the two together.
For our previous example, How to order a Clustered Hosting from IPServerOne, we used todaykl.com as the domain name to host when we signed up for the hosting package.
However, this domain name, todaykl.com, was actually purchased with another hosting company.
Upon payment, IPServerOne sent us a welcome email with this DNS settings for our hosting package:
| Setting | Value |
| --- | --- |
| NameServer (NS) 1 | ns82.ipserverone.com |
| NameServer (NS) 2 | ns2.small-dns.com |
In order to link the two together, we need to log in to domain administration panel (or control panel) to update the NameServers for the domain so that the domain can talk to the hosting package.

The above picture shows we logged into control panel (provided by the company sold us the domain) to modify the NameServer records to the ones given by IPServerOne, ns82.ipserverone.com and ns2.small-dns.com.
Once the NameServer is changed, a process known as "propagation" for these changes to filter their way through the internet will take anywhere between 20 minutes and 48 hours. As this process takes time, you won't be able to access your website through your domain immediately.
If you want to start uploading things to your website before it's propagated you'll need to use the IP address provided by your hosting company.
For our domain name, todaykl.com, it took about 2 hours for the propagation to complete.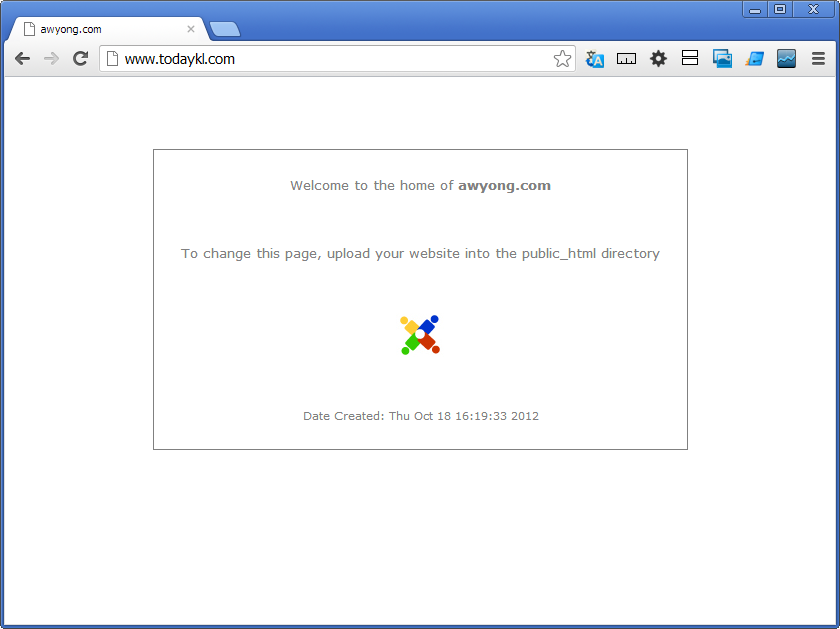 Now we can start setting up the website for our hosting purposes. :-)