1. Open the Outlook 2016
2. Double click on the email message so that it is opened in its own window.

3. On the Message tab, in the Options section there is a little button with an arrow in it. Click on it and you have the message options menu with the internet headers in the bottom section.

4. This will bring up the Message Options window. The last component of this is the Internet Headers.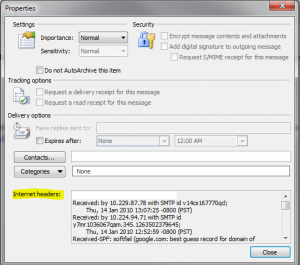 5. Right-click inside the headers and choose Select All, then right-click again and choose Copy.