Prerequisite :-
1.) Login URL (e.g. https://my-backup01.small-dns.com)
2.) Username and Password (Provided by IP ServerOne)
========================================================================================
Login Page – Type (Or Copy and Paste) the provided URL to your browser and you will appear at the login page of our backup server. Enter the Username and Password in their respective field.

Dashboard – You should reach your Dashboard View if you keyed in the correct credential. Here, you can get information like number of server(s) that is registered with the backup server, backup policy status, and current running or completed tasks

Protected Machines (summarized & detailed) – Show your current server(s) registered with the backup server.


Under the Actions column, click on the 'Gear' looking icon to browse your recovery point(s) or view your tasks history.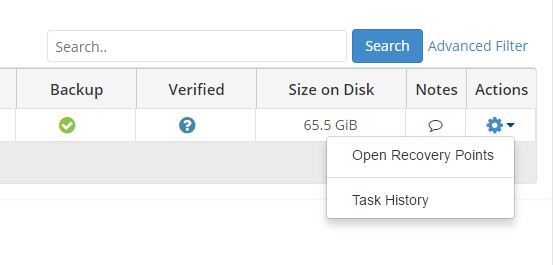 Recovery Points – Show how many recovery point(s) and time of the recovery point created.

Under the Actions column, click on the 'Gear' looking icon to browse into your selected recovery point.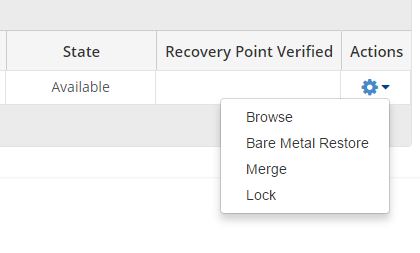 Example (if you have a Windows Server)

You can DOWNLOAD or RESTORE whole drive (e.g. whole C: Drive) or specific files (e.g. Browse and navigate like in your Windows Server by double-clicking until you reach the respective file(s)).
 Download Button – Download file(s) into your local personal computer.
 Restore Button – Restore file(s) back into your server either replacing the existing file or another directories.
!!! PLEASE TAKE NOTE – We do not recommend performing BARE METAL RESTORE as this will overwrite everything including the Operating Systems. Performing this is dangerous as it can render your server unbootable.
Reports – Create a report to send e-mail to recipients when certain incident or task occurred (e.g. Backup Policy failed, Backup Quota Limit Reached). Refer below for tasks/incidents that only it can report.


Volume – Shows you current usage on disk, soft and hard quota. Customer with multiple servers subscribed to remote backup will use only 1 Volume with incremental Hard Quota. (e.g. 1 Server = 100GB Hard Quota. 3 Servers = 3 x 100GB Hard Quota which is 300GB)